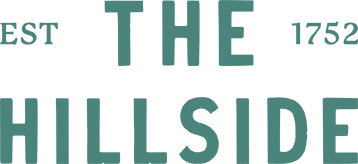 SPRING MENU
Gastronomes will be delighted with our mouth-watering seasonal menu, which is complemented by a comprehensive selection of daily specials
ALLERGEN ADVICE:
Please advise your server of any food allergies. We cannot guarantee that our dishes will be completely allergen-free.
BREAD BOARD · 8.50

Homemade mixed bread served with hummus, curry oil, tapenade, and Irish butter

DUCK PANCAKES · 9.00

Crispy confit duck served with steamed pancakes, hoisin, cucumber, and spring onion

THE HILLSIDE CHICKEN WINGS · 8.50

The Hillside's crispy chicken wings served with homemade hot sauce, carrot, celery, and her branch dressing

CAESAR SALAD · 8.00

Gem lettuce, cherry tomato, herb croutons and aged Parmesan.

PORK BELLY BITES · 9.00

The Hillside's famous pork belly bites tossed in our sweet sticky chilli glaze served with pak choi, coriander and chilli

GOATS' CHEESE TART · 8.50

Fivemiletown goats' cheese, basil oil, candied walnuts, balsamic beets and red onion rocket salad.

STEAMED MUSSELS · 8.50

Chilli, garlic, tomato and focaccia.
CHICKEN SUPREME · 18.00

Fricassee of pea, bacon, onion and mushroom, champ, pepper sauce.

MOURNE LAMB RUMP · 18.50

Parmesan gnocchi, goats' curd, green peas, bacon lardons, salsa Verde and merlot mint jus.

10OZ LISDERGAN FLAX FEED SIRLOIN · 30.00

Roasted cherry vine tomatoes, onion rings, triple cooked chips and peppercorn sauce.

BEEF STROGANOFF PIE · 17.00

Puff pastry lid, creamy champ, seasonal greens, and roasted root vegetables

8OZ LISDERGAN BEEF BURGER · 16.00

Toasted bun, bacon, red onion marmalade, Irish cheddar, gem lettuce, pickle, beef tomato and triple cooked chips.

CHICKEN KATSU CURRY · 17.00

Cardamon and coriander scented rice, flatbread.

CHICKEN BURGER · 16.00

Spiced chicken, toasted bun, tobacco onions, gem lettuce, tomato, pepper sauce, skinny fries.

HILLSIDE'S TRADITIONAL BEEF LASAGNE · 15.00

Mixed leaf salad, pink slaw, and garlic sourdough toast.

CRISPY BEER BATTERED HADDOCK · 15.00

Charred lemon, tartar sauce, pea purée, curry sauce and triple cooked chips.

FISH OF THE DAY MARKET PRICE · Market Price

Ask your server for details.
SPINACH AND PINE NUT LASAGNE · 15.00

Applewood smoked cheddar, mushrooms and tomato ragù with garlic crostini

VEGAN SQUASH AND CHICKPEA KATSU CURRY · 16.00

Cardamom and coriander scented rice with poppadom.
HAND CUT CHIPS

HILLSIDE CAJUN FRIES

SKINNY FRIES

HOUSE SALAD

GARLIC POTATOES

SEASONAL VEGETABLES

CHILLI FRIES

TOBACCO ONIONS

ONION RINGS

CHAMP

MASH

PARMESAN FRIES · 5

Parmesan and truffle triple cooked chips with truffle mayo

LOADED FRIES · 6

Dirty fries, bacon, jalapeños, Sriracha, local cheddar and crispy onions
WILD MUSHROOM AND TRUFFLE CREAM

RED WINE AND THYME JUS

PEPPERCORN AND COGNAC CREAM

CASHEL BLUE CHEESE JUS
DEEP FILLED BRAMLEY APPLE PIE · 8

Fresh custard and strawberries.

STICKY TOFFEE PUDDING · 8

Honeycomb ice cream, butterscotch sauce.

SALTED CARAMEL MILK CHOCOLATE BROWNIE · 8

Honeycomb ice cream.

MIXED FRUIT PAVLOVA · 8

Basil cream.

CHEESECAKE OF THE DAY · 8.00

Vanilla ice cream.

CHEESEBOARD TO SHARE · 14.00

Selection of Irish cheese, frozen grapes, crackers, chutney.